Philippe Chancel
Guest photographer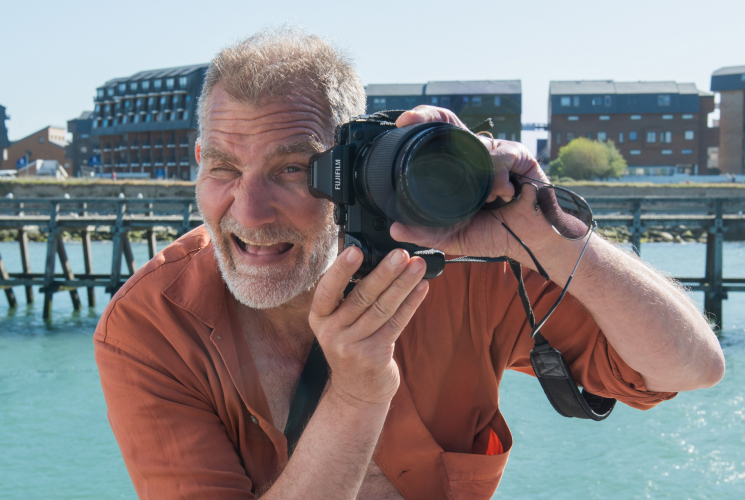 Philippe Chancel © Victor Rival-Garcia
Born in 1959 in Issy les Moulineaux, Philippe Chancel lives in Paris. For more than twenty years, he has been pursuing a photographic experience in the complex, moving and fertile field between art, documentary and journalism. A constantly evolving work on the status of images when they confront themselves with what makes "images" in the contemporary world. Initiated to photography at a very young age, Philippe Chancel studied economics at the University of Nanterre and journalism at the CFPJ in Paris. Successive reports in the former Eastern European countries marked his debut in photojournalism.
DPRK, his vision of North Korea, was shown for the first time at the Rencontres d'Arles (2006) and was the subject of a book published by Thames&Hudson, earning him the start of international recognition. The Emirates project was first shown at the 53rd Venice Biennale (Abu Dhabi Pavilion) and then at the Dreamlands exhibition at the Centre Pompidou. His books include Dubai, published by Be-pôles, Desert Spirit, published by Xavier Barral, Emirates Workers, published by Bernard Chauveau, and Kim Happiness and Drive thru Flint, published by l'Artiere.
Philippe Chancel is currently working on a new documentary field entitled Data Zone, which seeks to show territories that are overexposed or, on the contrary, unknown to media radars. Finalist for the Prix Pictet 2012 for his work Fukushima : The Irresistible Power of Nature, he exhibits at the Rencontres d'Arles 2013, is nominated for the first Prix Elysée and winner of the endowment of the Festival Photoreporter in the Bay of Saint-Brieuc. In 2017, for its second edition, he receives the Fidal Prize for documentary photography. In 2019, he presents Data Zone at the Rencontres d'Arles.

If Deauville
LUCIEN BARRIERE WALK - Along the International Congress Centre. Access via Boulevard Eugène Cornuché.
In the grip of a sort of "special edition" of his work Data Zone, immersed in a city/décor and the surrounding landscape, Philippe Chancel conducts an investigation beyond appearances.
Philippe Chancel, particularly noted for his work on North Korea and his great Data Zone exhibition presented at the Rencontres d'Arles in 2019, proposes a reflection on the question of sustainability; through the analysis of key places, the theatre of stakes, wars or natural disasters (the new silk road, Fukushima, Kabul, the Niger Delta...).
In residence, he worked on Deauville as a city/cinema set, "ideal city".
The Duke de Morny, nephew of Napoleon III, a colourful character and a shrewd businessman, celebrated the Empire in his own way by creating Deauville from scratch. The legend of the prodigious seaside resort was built around this founding myth which became reality and which gives the impression of an almost too perfect city, a cinema city, that we still know today. I arrived in Deauville with the intention of making an intramural photographic inventory of it as well as of the whole surrounding area. Blonville sur mer, Tourgéville, Saint Arnoult, Vauville, Villers-sur-mer, Touques, Villerville and others.

All along this Normandy coastline, events are incessant, the activities are numerous, and leisure activities have become a true art of living: hotels, beaches, casino, horse riding, well-being, architecture and heritage, water sports, tennis, golf and mini golf, etc. Through rigorous work on the frame, at the right distance from the subject so that the images are composed like living, contemporary tableaux, allowing for breaks in scale, with a bias of decisive choices, I tried to grasp in all hypotheses that, if Deauville was shown to me, I would like to see it like that and not otherwise.

Philippe Chancel
The Site:www.philippechancel.com